SANDHANI is a reputed Volunteer Humanitarian Organization in Bangladesh established on 5th February 1977 by six M.B.B.S. students of Dhaka Medical College, namely Mostafizur Rahman Shopon, Mosharrof Hossain Mukto, Md. Idris Ali Monju, Md. Abdul Kaium, Mostofa Selimul Hasnain and Khurshid Ahmed Apu, with a view to providing support & assistance to the poor and distressed patients with free blood, medicines etc and also donating cornea to the blind people.
Shandhani is highly appreciated for its voluntary blood donation programmes, posthumous eye donation programmes, mass vaccination programmes, school health programmes etc. The Organization offers free blood bank, drug bank for the distressed people, and also involved in various humanitarian activities. It has 22 Units at different medical and dental colleges of Bangladesh. The voluntary activities of Shandhani are run by a Central Committee.
For its outstanding contribution in the field of voluntary activities, SANDHANI has received lots of awards including Swadhainota Podoc 2004, Jewel Memorial Medal in 1986, Asaf-ud Daula Memorial Medal in 1988, Rear Admiral Mahabub Ali Khan Gold Medal in 1991, Common wealth Youth Service Award'95 (first organization in Bangladesh to receive this award), O.D.A.U.K.Award'95 in 1995, Ibn Sina Trust award in 2003, Bangladesh Medical Teachers Association Federation Award in 1995, and more.
Contact Info: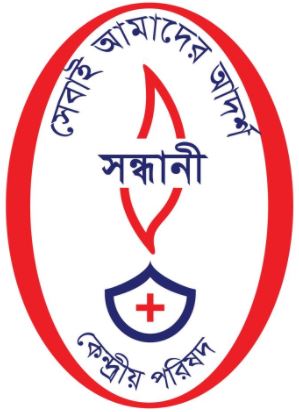 Sandhani Central Committee:
Address :
Office 1# Sandhani Bhaban, 33/2 Nilkhet, Babupura, Sandhani Road, Dhaka-1205
Office 2# Room No-5, Block-B, Dormitory (East Side of Pubali Bank), BSMMU, Shahabag, Dhaka-1000
E-mail : info@sandhani.org
Contact: +8802-9634792 Phone No of President : (+88)01794565654
Phone No of GS : (+88)01794565655
Sandhani, Chittagong Medical College Unit:
Address : Sandhani Office (Behind shaheed minar), Chittagong Medical College
E-mail: sandhanicmcu@yahoo.com
Phone No of President: 01789526912
Phone No of GS: 01789526912
Website: www.sandhani.org
Website: www.damcf.org
Published Date: 26/07/2014
Related Sites: