Chittagong College, also proclaimed as Chattogram College, is one of the oldest and prestigious government colleges in Bangladesh. It was established in 1869. Chittagong College is situated at Chawkbazar in Chittagong (officially Chattogram), Bangladesh. Today, the College is offering many graduation and under-graduation courses on different subjects in affiliation with National University Bangladesh. It keeps Science and Humanities section in intermediate level.
At the very beginning, it was 'Chittagong District School' which was upgraded to an intermediate college in the year 1869. In 1909, the College introduced science education at intermediate level. Chattogram College has been a graduation institute since 1910. Currently, the college is offering Graduation and Postgraduate courses in 35 subjects – seventeen (17) subjects at Graduation and eighteen (18) subjects at Postgraduate level.
At present, Chittagong College has about 17,000 students. It has five (5) academic buildings, a library with about 60,000 books, a two-storied mosque, a large auditorium, and a large play-ground (known as Parade ground). Chittagong College has four (4) hostels – three (3) for male and one (1) for female. These hostels are – Sher-e-Bangla Chattrabas, Huseyn Shaheed Suhrawardy Chattrabas, Dr. Abdur Sabur Chattrabas, and Hazrat Khadizatul Kobra (R) Chattrabas.
Contact Info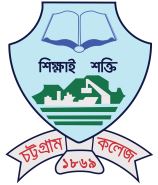 Chittagong College:
Chawkbazar, Chittagong, Bangladesh
Phone: 031 - 616045, 621730, 621731
Fax: 031-639935
Website: www.ctgcollege.gov.bd
Facebook Page: www.facebook.com/chittagongcollege1869
Published Date: 11/12/2014
Related Sites: